A homeless man enters your restaurant. How are you?
Homeless people are searching near your home or downtown office. How are you?
This summer, homelessness has become a pressing problem in Cincinnati. Local officials have moved homeless camps in the city and two local companies have been targeted for treating homeless customers.
Here's what people who live and work in downtown think about the growing problem of the homeless in Cincinnati.
"This is what Third Street looks like?"
Sue Byrom, president of the Downtown Residents Council, has filed multiple email, text, and personal complaints about homeless camps near busy streets.
The complaints got worse after Cincinnati cleared the transfer warehouse near Plum Street. The tents moved east on Third Street and under a bridge on Pete Rose Way. Last week they moved to the Jack Casino, a Gilbert Ave Park, and private land in Over-The-Rhine.
"'This is what Third Street looks like?" Byrom recalls as a common complaint. "You were really stunned. It's like (visitors) have yet another reason to avoid downtown."
It's not just camps that are on people's minds. Byrom noticed more aggressive panhandling and a move from people "asking" to "demanding" for money. She said downtown visitors and workers were "afraid" of the mounting tension.
Byrom said it had become such an issue that people told her they could consider moving out and staying out of the city center.
"You're trying to run a business and have a heart"
For Megan Clemmons, manager of Fountain Square Chipotle, the homeless are both customers and occasional problems. Around 15 homeless people buy meals at Chipotle every day.
Clemmons had to call the police a few times when the homeless were romping about in the store. On a particularly stormy day, Clemmons remembers a man who set off the fire alarm for him to be arrested and taken out of the weather. More recently, police responded when a homeless man refused to stop pouring water on himself in a restaurant.
Clemmons said she encourages Chipotle staff "if they feel uncomfortable, bring in a manager or bring our security guard to sit with us all day."
At Tom + Chee on Court Street, manager Dave DiGiacomo said a purchase is required to sit at tables or use the bathroom. Even so, scammers drive away regular customers on the sidewalk in front of the store.
Davya Landoll, Panera Bread Manager on Sixth Street, said she must use discretion when dealing with homeless customers. When the summer temperatures rise, Landoll gives away more water cups and lets people cool down inside even if they can't buy anything.
"We're a business. We make money, but if you just sit there and just need a cool seat, I get it. It's hot out there," she said.
However, Landoll admits that this can sometimes alienate other customers.
"It may sound nasty and mean, but someone who pays $ 15 for a salad and sandwich combo doesn't want to sit next to someone who isn't well-groomed. Some of them smell and it can kind of put people off." "Said Landoll.
"It's difficult because you are trying to keep a business going and you are trying to have a heart too."
Local businesses under attack
In June, police removed a homeless man from Cheapside Café who cursed workers and customers before falling asleep in the restaurant.
A customer and a city council member criticized Cheapside on social media, but police later released bodycam footage of the incident contradicting the viral posts. The cafe owner said he called officials because the man had been violent in the past.
More:Cincinnati councilor apologizes after Cheapside Cafe's bodycam video is released
More:"Stop Hanging Out": Cincinnati Dunkin 'Donuts fires a clerk over a message on a homeless woman's mug
A week later, a downtown Dunkin 'Donuts fired an employee who wrote "Stop' Hangin 'in front of the store" on a homeless woman's mug. Although the owner said he would like to apologize for what happened, the woman concerned has not returned.
In July, police arrested a homeless man at Domino's on Fourth Street after authorities said he tried to get away with free food and attacked a manager who rushed to stop him.
Rights of the homeless
Homelessness is not a protected class like race or religion, which means that it is not specifically illegal for a company to refuse service to a person because they are homeless.
Tristia Bauman, senior attorney for the National Legal Center on Homelessness and Poverty, said it is often a judgment based on looks, but the problem has more to offer than meets the eye.
"Too often the homeless are not involved in any threatening behavior. They just look homeless and that's why a company doesn't want them in their home or they don't want them around," Bauman said.
However, it is more difficult for business owners to remove people from public sidewalks in front of a business.
"When someone is panhandling or even sitting in front of a company, a private business owner's ability to lawfully remove that person is severely limited," Bauman said.
Panhandling is allowed in Cincinnati, but there are restrictions. It can't be aggressive. Neither can it happen at ATMs, at bus stops, near doors, or on public transport. Asking passers-by for money when you don't really need it is also a crime.
A breach of panhandling law is a fourth degree offense punishable by a fine of $ 250 and a prison term of up to 30 days.
Although corporate rights are different from the government's responsibility to serve all, said Cincinnati attorney Jennifer Kinsley, who has sued on major cases on behalf of the homeless that shops and restaurants have an increased duty to serve all members of the public serve.
"When business owners shut out the homeless, they're not really serving the public," Kinsley said.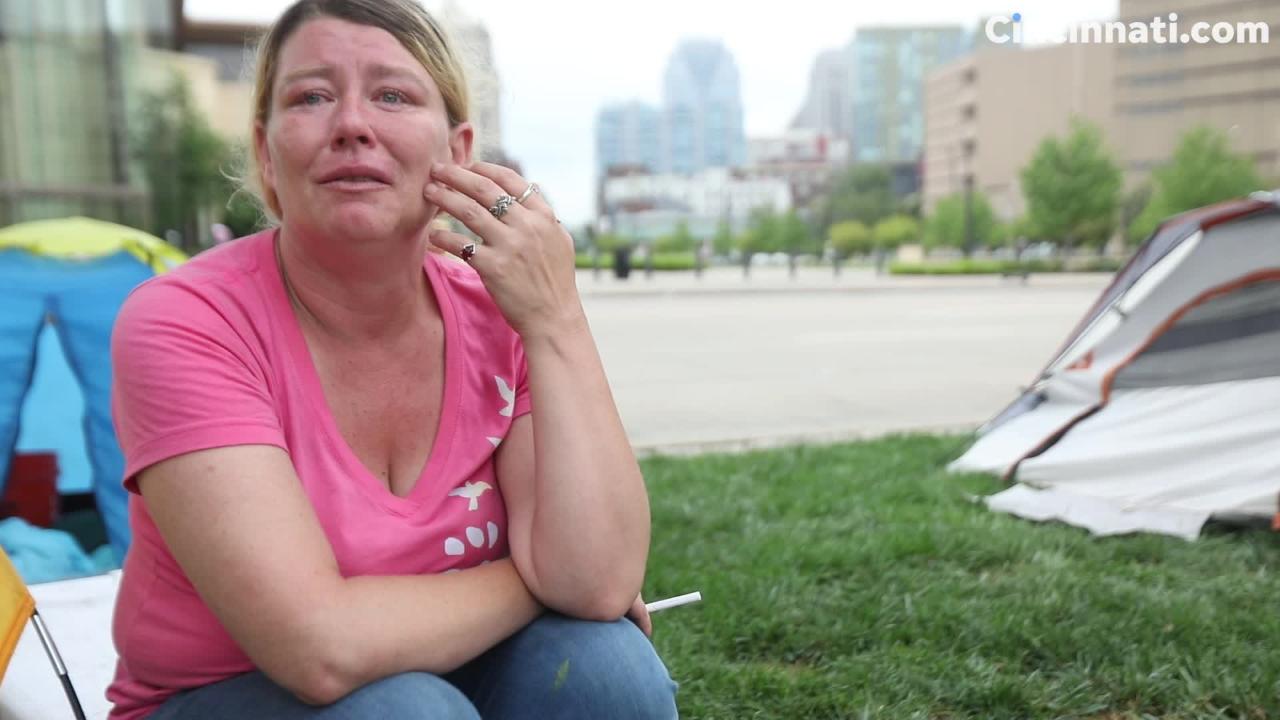 What can you do?
The President of the Residents Council, Byrom, has one piece of advice for people who live in the city center and want to make a difference: "Give the money to organizations that can really help."
By giving money directly to the homeless, she said, "You allow them to stay on the street where they are exposed to disease, dirt and, in some cases, drugs."
Bauman said people who see incidents of disrespect in a store or restaurant should "vote with their dollar." Boycotting a company that doesn't treat the homeless with respect can send a stronger message than anything else, she said.
What companies can do
Posting rules, such as B. Toilet signs for paying customers can help de-escalate tense situations before they begin.
"That usually doesn't keep them offensive," Landoll said.
Starbucks on Fourth Street doesn't require people to buy anything to be in their space and offers free water every day. Manager Connor Morgan said the presence of the homeless, including three who are usually outside of the business, did not affect the business in one way or another.
Kinsley said managers and clients alike should help out when they can.
"Customers who I think often want to help, so if they want to buy that person a meal, let that transaction go ahead," said Kinsley.
Kinsley advises workers to only involve law enforcement when a crime is committed, and not just to get a person out of business.
"If a person is concerned … they should contact social services, not the police," Kinsley said.
Homelessness in Cincinnati
In 2016, Ending Homelessness Strategies and HUD counted 1,116 homeless people living outside of Cincinnati.
Strategies houses 675 beds with a capacity for 800 people at peak times.
According to the Ministry of Housing and Urban Development, there were fewer than 1,000 emergency beds and around 2,500 parking spaces for permanent housing in 2016.
Hamilton County ranks third in the state for homelessness, behind Cuyahoga County, Cleveland and Franklin County, Columbus, according to Shelterhouse Cincy.
According to the HUD, at the last time in 2017 there were around 554,000 Americans without permanent homes.