Here are Politics Extra's winners and losers from Tuesday's election:
WINNER
Donald Trump
Does anyone have any doubts whether Ohio is still Trump Country? The GOP's takeover of the statewide executive offices can be attributed to Trump, who gathers his supporters in rural areas to come out and vote. The president came to Ohio twice last month and asked his supporters to vote for it Mike DeWine and Republican candidates. Do you think these country voters loved DeWine's gubernatorial campaign? Barely. DeWine shied away from joining Trump, but the governor-elect now owes the president a lot. It will be interesting to see what role DeWine will play in Trump's 2020 bid for re-election. Trump will lean heavily on Ohio, among a handful of states that have shown it is still firm behind the President of the House on a day the GOP lost control.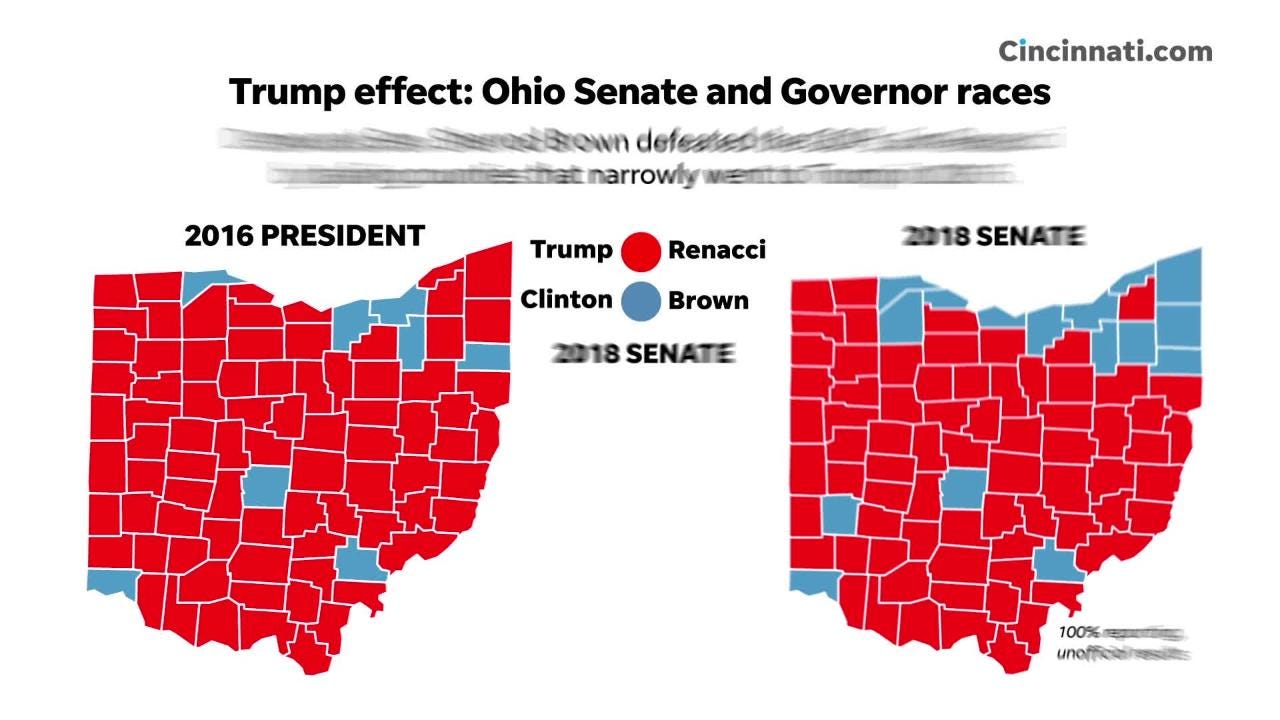 Hamilton County Democratic Party
The blue wave missed all of Ohio but crashed into Hamilton County. We can now officially name the county blue. Tuesday was quite an addition to the 2016 election for local Democrats when Denise Driehaus turned the board of commissioners and Aftab pureval kicked the GOP out of the clerk's office. Little known Stephanie Dumas the defeat of the Republican commissioner sparked one of the largest unrest in the county's political history Chris Monzel. Dumas' election gives Dems full control of the board. She is the first African American woman to be elected to a nationwide executive office. Democrats also severely weakened the GOP's control over the Hamilton County's judicial system. They agreed and strategically on the judiciary and it has paid off. Victories of Pierre Bergeron and Candace Crouse Give the Democrats three seats on the Ohio 1st District Court of Appeals, an even split with the Republicans. Defeated Crouse Dennis Deterswho was appointed a judge after losing his seat on the Board of Commissioners in 2016. Two direct losses for Deters must worry the GOP about the longstanding prosecutor Joe Deters be able to hold its seat in 2020.
Local candidates
A pink wave also hit Hamilton County. Much has been said about this being a good year for female candidates amid the Trump resistance, and that turned out to be the case. It has to explain in part why Monzel and Deters – two of the biggest names in Hamilton County's politics – lost to little-known candidates. Dumas didn't have a robust campaign, but the former Forest Park mayor was busy out there going to events. Crouse carried out her first political campaign. Women won three of the four races on the ballot. Technically, they won four seats with Republicans Lisa Allen and Leslie Ghiz To win re-election in a field race for judges with common grounds of action. In addition, Forest Park is located Jessica Miranda's suburban statehouse race against the incumbent Republican Jonathan Dever appears on the way to a recount.
Cincinnati business world
The Cincinnati Business Committee, the Cincinnati Regional Business Committee and the Regional Chamber have backed the election initiative to reset the city council to two years. Issue 10 passed with nearly 70 percent of the vote, and the four-year term will be dropped after the 2021 elections. The council's anti-development progressives toed the big business bear when they rolled back Cincinnati FC's stadium contract earlier this year. So the business world has said enough, and the city's top executives have funded a robust campaign over the past few weeks to help pass Issue 10. A two-year term will not allow politicians to get too comfortable and could deter the council from developing long-term guidelines that violate development projects.
Franklin
Sherrod Brown rewarded one of his campaign workers by bringing him on stage during the senator's victory speech. Franklin, the Senator's rescue dog, strutted across the stage with his father and mother, Brown's wife. Connie Schultz. Franklin appeared in his first ad campaign last month. Did Franklin play a small part in Brown's defeat? Jim Renacci? It wasn't as easy a win for Brown as many thought it was against a weak candidate. Brown won by just 6 points, undoubtedly evidence of Trump's influence in Ohio.
LOSER
Team Aftab
As Ohio goes, so does the nation. Usually that's true, but not with this choice. Democrats were able to turn the house around without winning any of their targeted congressional races in Ohio. Number 1 on their list here was Ohio 1st Congressional District. Aftab pureval had the momentum against career politicians in midsummer Steve Chabot. But Pureval made a number of self-inflicted campaign mistakes on the line. These problems were partly due to his inability to hire seasoned top campaign professionals. Instead, Pureval hired close friends Sarah Topy and Jens Sutmoller. Topy was fired as campaign manager last week amid controversy that a Pureval volunteer had infiltrated Chabot campaign events. Sutmoller ran one of the worst local campaigns in years. In 2013 he led Roxanne QuallsCampaign for the Mayor of Cincinnati. She was the favorite but lost decisively to John Cranley.
More:Three reasons Steve Chabot won and Aftab Pureval lost
More:Is Ohio a Red State? Breakdown of interim results on Tuesday
Nationwide blue wave
Trump's 2016 appeal to voters in rural Ohio should have been a wake-up call to the Ohio Democratic Party. Has the ODP hit the snooze button for two years? Or have Trump's requests to his grassroots in recent weeks simply overshadowed the democratic efforts in these parts of the state? Whatever the answer, Democrats need to do more outside of the urban areas if they are to beat Trump in 2020. Some people on social media were calling for Cincinnatis David Pepper to step down as chairman of the Ohio Democratic Party late Tuesday night. It's a thankless job, and Pepper put a respectable group of nationwide candidates on the ballot. It is up to each candidate to turn to the voters, and their campaigns ultimately failed from Mercer to Meigs counties. Maybe in retrospect Jerry Springer should have run for the governor. His populist appeal might have helped Dems do better in the Boonies.
Pollsters
Here's another group that hasn't made the necessary changes since getting it all wrong in 2016. Brown won most of the polls with 10 to 20 points. Not even close. He beat a weak candidate by 6 points. Most of the polls had Richard Cordray 1-2 points or in one throw in the governor's race. Not correct. Most of the surveys passed Issue 1. Not correct. The voters overwhelmingly rejected this. Trump has to love that. He beat up the pollsters for doing everything wrong two years ago. He can push this narrative forward until 2020 – and who can blame him?
Cincinnati Progressive
These people were loud and vicious in the social media echo chamber during another election cycle. But once again they were silenced on election night. For the second year in a row, the progressive-selected candidate was served a large serving of humble cakes. Yvette Simpson lost to Mayor Cranley last year. Pureval was the youngest Cincinnati progressive to be overly ambitious and had his inexperience exposed by a seasoned activist. But Pureval's loss wasn't the only defeat the progressives had suffered. Their efforts to implement four-year staggered terms of office for the city council – an attempt to achieve one-party dominance in the city hall – failed.
Jim Renacci
Good break from this guy. He ran a flat campaign, and Renacci should be ashamed of making unsubstantiated sexual assault allegations against Brown in the last few weeks of the campaign. Renacci will have plenty of time to ponder his mistakes now that he's no longer in politics.
transparency
City hall is an absolute mess and voters only made it worse by passing an amendment to allow executive meetings for the city council. The voting language was confusing, and it's hard to imagine that voters understood what they were doing by passing Issue 12 with nearly 77 percent of the vote. They did so when the Council's secret text messages had hit the headlines for several months. Now the council has a free pass to do business behind closed doors. Pooh.
Listen to Enquirer's political columnist Jason Williams' weekly podcast, That's So Cincinnati. Twitter: @jwilliamscincy. Email: [email protected]