The Northerners | The NKU's GEARUP is holding a webinar on the topic of news consumption and media literacy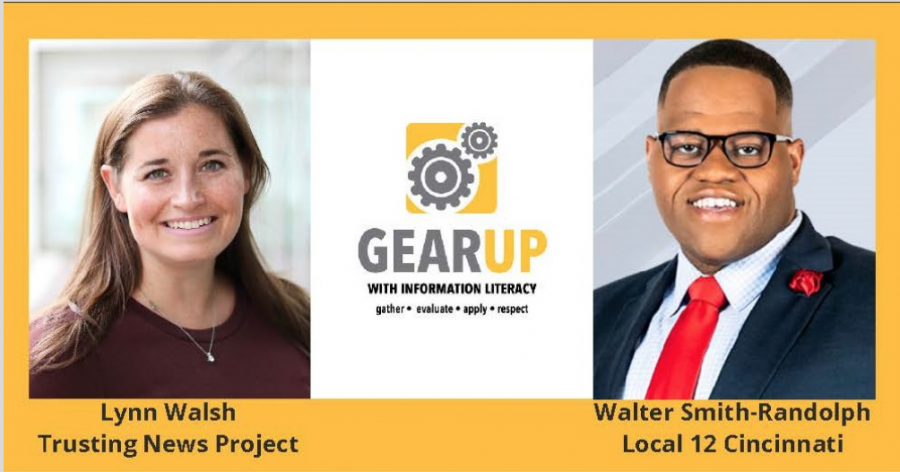 Northern Kentucky University hosted one Blurred Lines Webinar with speakers Lynn Walsh and Walter Smith-Randolph on Tuesday March 30th. They talked about expanding information and promoting community education through conversation over news, as well as fact-checking and trusting in the face of an increase in misinformation.
As part of its information literacy initiative, the GEARUP organization uses this webinar to share this information. NKU Professor Michele Day moderated the event by asking both pre-written questions and questions submitted by the audience.
Lynn Walsh is the associate director of Trusting News, a research and education project that enables journalists to actively demonstrate their credibility and gain trust. Walsh is also an Emmy Award-winning journalist who has worked on national and local news and was the former national president of the Society of Professional Journalists.
Walter Smith-Randolph is a reporter and special project contributor at Cincinnati's Local 12, treasurer of the National Association of Black Journalists and currently a lecturer at NKU. Prior to his success in Cincinnati, Smith-Randolph worked for stations in New York and Michigan, where his coverage helped uncover the Flint water crisis. He was named Kalamazoo Child Advocate of the Year in 2017 for a number of investigative reports that revealed child abuse.
The two panelists shared their views and insights into the work of journalists and how they identify and report facts, review information, and how inaccurate information and news has affected their careers.
During the webinar, the issue of fake news was immediately addressed and how the media, journalists and the community have suffered from fake news.
"Anything that someone doesn't like, they call it fake news," said Smith-Randolph.
He went on to explain how people believe that all news must be what they think or like, and that factual information is not provided. The result was interviewing sources for a challenging story, as people are more familiar with news products than the reporter himself.
Walsh continued her insight into the fake news issue by sharing how it affected her career by making it harder for people to trust journalists and rely on them to provide accurate information.
"The fact that this term is used more widely, not just by ordinary people or members of the public you encounter, but also by lawmakers and people in positions of power. Whatever it does, it affects people's confidence in the news, "Walsh said.
Problems across the country have been caused by misinformation and unreliable sources exchanged through social media accounts, and continuous shares that have resulted in journalists or certain outlets being fake news.
Discovering articles or information that appears to be questionable as to whether it is correct information or not can be resolved by asking questions, gathering evidence or records, and reviewing and source-checking aggregated facts.
Journalists gather ideas and information about stories with the help of the community and people who want their voice to be heard. As a reporting journalist, your job is to use the platform and sources to create a story and be the voice of those providing information.
"There are people who watch you and we are the watchdogs. We have to speak for them, that's my job, "said Smith-Randolph.
A survey of questions was provided during the webinar for viewers to take.
"How serious is the news misinformation problem today?" It resulted in zero percent voting for no problem, 20 percent for a problem, and 80 percent for a very serious problem. (Haley Halcomb)
"Another interesting thing, there's another question that came up in a poll from the Pew Research Center. You asked the same question about how serious you think a problem is. "Said Walsh. "The next question they ask is who do you think is responsible for fixing the problem? In fact, a large percentage of people believe that journalists should be part of the solution to this problem. "
Advice from Walsh and Smith-Randolph on how to be part of the influence and impact on information around you is to access misinformation, access within your inner circle, and have conversations to work towards education.
Journalists have standards and rules by which to report. They follow the AP Stylebook for rules and standards that people don't necessarily understand.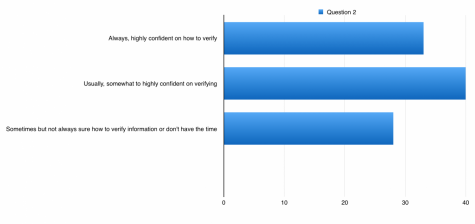 "How do you react to the statement, applied fact-checking strategies?" As a result, 33 percent agreed that they are always very confident about how to verify, 40 percent agreed that they are usually a little too confident about how to verify, and 28 percent agreed that sometimes, but not always sure how to verify or attract information I don't have time. (Haley Holcomb)
Most complaints that go to the newsroom or news agencies are usually based on misinformation or a misunderstanding of the information made available to the community, such as: B. Questions for clarity or more details.
"This is a better way for journalists to label their work and make sure we understand that that opinion is shared and that it can confuse people," said Walsh.
One message for the community is that there are fact-based articles and there are also opinion-based articles. If you notice the difference when these articles get published it will become a blurring topic for the people in the community.
This led to the third poll that was asked during the webinar.
"Everyone has their prejudices, I grew up black in Queens, New York," said Smith-Randolph. "The question is, can you put your prejudices aside to tell a fair story?"
Journalists have formed opinions and think in certain ways, but reliable journalists put their thoughts and opinions aside in order to get their job done right.
"When it comes to getting your job done, you just have to put those biases aside in order to be objective and be able to give both sides and also strike some balance," said Smith-Randolph.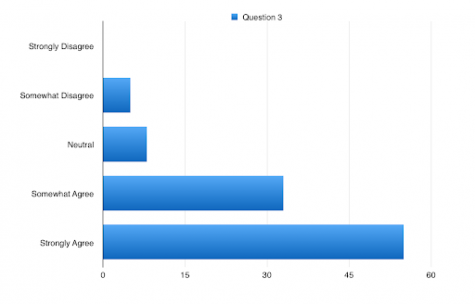 "What is your perspective: should journalists be objective when reporting on the news?" As a result, zero percent totally disagree, five percent tend to agree, eight percent are neutral, 33 percent agree somewhat and 55 percent strongly agree. (Haley Holcomb)
As a reader or viewer, what can you do if you do not know whether information is reliable:
Contact journalists

Comment on the broadcaster's social media page and ask if it's an opinion piece or a fact-based journalist contribution

Accountability, find the reporter and ask the source the question

Facebook is not reliable, while Twitter is easier to verify the account
For more information on the Blurred Lines Webinar, please visit nku.eventsair.com For more information on panelists, Lynn Walsh and Walter Smith-Randolph, as well as other updates to the recorded webinar, please click here.