The University of Cincinnati Bearcat football program is preparing a new playground at Nippert Stadium.

Instagram | @uofcincy

Ahead of the 2021 season, the University of Cincinnati (UC) Bearcat's football program is preparing a new playground at Nippert Stadium. If the 2020 number 8 standings with a returning head coach and quarterback hasn't drawn enough attention to the Bearcats for 2021, the new Nippert Stadium is sure to grab the attention.
The new field of Bearcats shows two alternating shades of green every five meters, with two logos of the American Athletic Conference (AAC) on the opposite 25-yard lines. Nippert's new look is being installed by The Motz Group, a local Cincinnati artificial and natural grass specialist who recently completed projects for the West End Stadium for FC Cincinnati and the Indianapolis Colts Lucas Oil Stadium.
"Bringing the university's vision to life is really an honor for our team," says The Motz Group.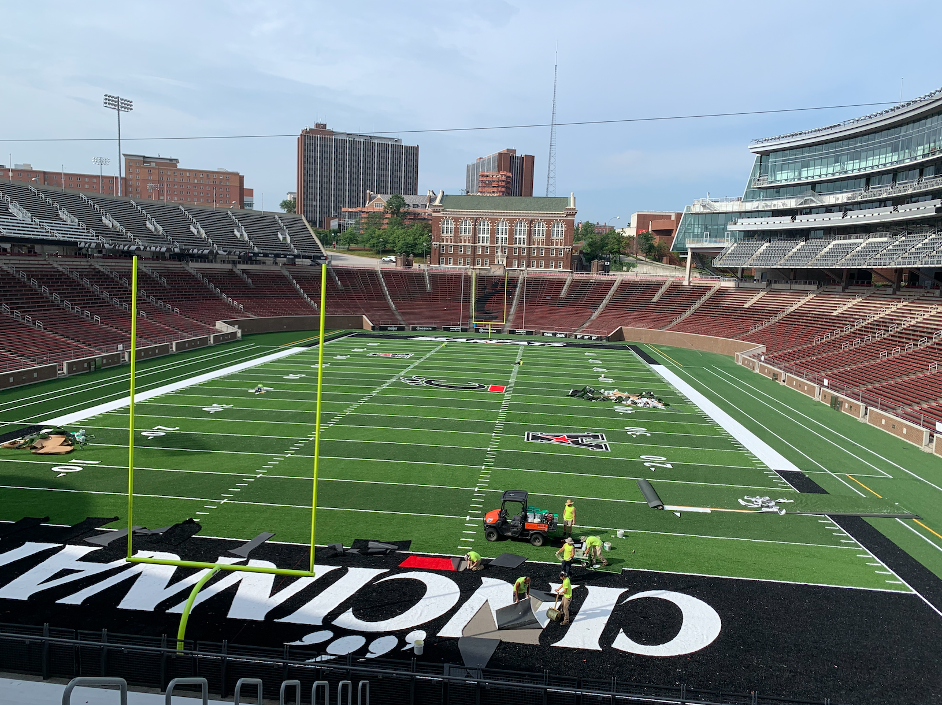 The Motz Group is working on the University of Cincinnati's new end zone on Friday, June 11, 2021.

Owen Racer | Sports editor

The Nippert Stadium wasn't the first collaboration between UC and The Motz Group. The Bearcats used Motz for their baseball field, soccer field, and practice fields at Sheakley Stadium.
"With great expectations for the season, this field will give players a lot of motivation to work hard to have a remarkable season on the new field," said Freddy Mazza, a field installation technician at The Motz Group.
The finished product includes the combination of design efforts from athletics, campus management, overall branding, and the Motz Group. According to Motz, the exact design specifications of Nippert's new appeal are due to a combination of in-house research and testing that enables a realistic playing field.
"Feedback from the administration, coaches and, most importantly, the players are key to delivering the system that Nippert uses," said The Motz Group.
UC Athletics Director John Cunningham announced on Friday that Nippert Stadium will be at full capacity for the 2021 season, which means that all 40,000 available seats can be occupied for game days. The Bearcats are expected to host six opponents on their new home field in 2021.
When the Bearcats defeated the Memphis Tigers in the 2020 AAC Championship at Nippert Stadium, only 6,000 seats were occupied.
"I know that what we build will also cause excitement and joy to a lot of people," said Mazza.
Fickell and his crew have begun breaking into the new turf with summer drills led by Ahmad Gardner and Myjai Sanders from PFF's preseason All-American.
The rivals Miami Redhawks will be guests at the new Bearcat area on September 4th at 3:30 p.m.