Science news | Researchers are developing new therapy for rheumatoid arthritis with implanted cells that release drugs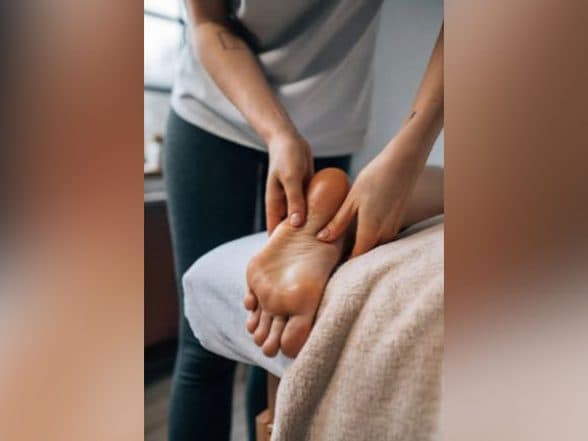 Washington [US]Sept. 5 (ANI): Clinical researchers at the Washington University School of Medicine in St. Louis recently developed a new way to treat rheumatoid arthritis using genetically engineered cells that, when implanted in mice, produce a biological drug in response give up on inflammation.
The aim of the research was to develop therapies for rheumatoid arthritis with minimal side effects.
Also read | JPSC Combined Civil Service Prelims Admission Card 2021 Released, Candidates can download their Admission Cards at jpsc.gov.in.
The genetically engineered cells reduced inflammation and prevented a type of bone damage known as bone erosion in a mouse model of rheumatoid arthritis. The research team's ultimate goal is to develop therapies for people coping with rheumatoid arthritis, a debilitating condition that affects approximately 1.3 million adults in the United States. The new findings were published online in the journal Science Advances.
"Doctors often treat rheumatoid arthritis patients with injections or infusions of biological anti-inflammatory drugs, but these drugs can cause significant side effects if given long enough and in high enough doses to produce beneficial effects," said lead researcher Farshid Guilak , PhD, the Mildred B. Simon Professor of Orthopedic Surgery.
Also read | How to buy tickets for Manchester United vs Newcastle United, Premier League 2021-22 game? Know the prices to see Cristiano Ronaldo in action again at Old Trafford.
Farshid continued, "We used CRISPR technology to reprogram the genes in stem cells. Then we made a small cartilage implant by seeding the cells on woven scaffolding, and we put them under the skin of mice bodies for long periods of time and secretes a drug when inflammation flares up. "
Researchers used CRISPR-Cas9 genome editing technology to create cells that secrete a biological drug in response to inflammation. The drug reduces inflammation in joints by attaching to interleukin-1 (IL-1), a substance that often promotes inflammation in arthritis by activating inflammatory cells in a joint.
Guilak, a co-director of the Washington University Center of Regenerative Medicine, and his team previously developed scaffolding that they coat with stem cells and then implant into joints to form cartilage. The strategy enables the researchers to implant the manipulated cartilage cells in such a way that they cannot drift away after a few days and survive for months or longer.
His laboratory had previously also built so-called SMART cartilage cells (stem cells modified for autonomous regenerative therapy) with CRISPR-Cas9 technology in order to modify genes in these cells so that they are when the genes in the cartilage are activated by inflammation Reaction secrete medication.
In the new study, Guilak's team combined the strategies for treating rheumatoid arthritis.
"The cells sit under the skin or in a joint for months, and when they sense an inflammatory environment, they are programmed to release a biological drug," said Guilak, also director of research at Shriners Hospitals for Children in St. Louis.
In this case, the drug was similar to the immunosuppressant anakinra, which binds to IL-1 and blocks its activity. Interestingly, this drug is not widely used to treat rheumatoid arthritis because it has a short half-life and does not linger in the body for long. But in this study in mice, the drug reduced inflammation and prevented bone damage, which is common in rheumatoid arthritis.
"We focused on bone erosion because it is a huge problem for rheumatoid arthritis patients, which cannot be effectively treated with current biologics," said co-first author Yunrak Choi, MD, an orthopedic surgeon who works at the Guilak -Laboratory is visiting. "We used imaging techniques to examine the animals' bones closely and we found that this approach prevents bone erosion. We are very excited about this advance, which appears to address an important unmet clinical need. "
Guilak worked with Christine Pham, MD, Director of the Department of Rheumatology, and the Guy and Ella Mae Magness Professor of Medicine.
"Although biologics have revolutionized the treatment of inflammatory arthritis, the continued administration of these drugs often leads to adverse events, including an increased risk of infection," said Pham. "The idea of ​​essentially delivering such drugs on demand in response to arthritis flare-ups is extremely attractive to those of us who work with arthritis patients, as the approach could limit the side effects associated with continued high-dose administration of these drugs accompanied."
With CRISPR-Cas9 gene editing, cells have the potential to be programmed to make all kinds of drugs, meaning that if one arthritis drug works better than another in a particular patient, the researchers are cartilage cells could evolve to perform personalized treatments. The strategy has great potential in the treatment of other inflammatory arthritis diseases, including juvenile arthritis, a condition that affects more than 300,000 children in the United States.
"Many arthritis patients have to self-administer these drugs by giving themselves injections daily, weekly, or biweekly, while others go to a doctor's office every few months for an infusion of one of these biologics, but in this study we showed that we can turn living tissue into a drug delivery system, "said Kelsey H. Collins, PhD, postdoctoral fellow in Guilak's laboratory and co-first author of the study.
Kelsey added, "These cells can recognize problems and respond by producing a drug. This approach also helps us understand why certain biologics may have limited effects in inflammatory arthritis. The drug is short-lived compared to the automatically controlled drug levels released by implanted SMART cells. "
Researchers continue to experiment with CRISPR-Cas9 and stem cells, and even develop cells that may make more than one drug to respond to different triggers of inflammation. (ANI)
(This is an unedited and auto-generated story from the Syndicated News Feed. LatestLY Staff may not have changed or edited the content.)