Numerous new restaurants opened in the greater Cincinnati area in 2016, keeping things interesting regardless of which neighborhoods you frequent. The list of newcomers includes ethnic restaurants, casual neighborhood eateries, sports bars, grocery breweries, new chains in the area, and two places serving Nashville hot chicken practically across the street. We have lots of new places for breakfast, lots of chicken finger fast food restaurants and, as always, new steakhouses, including a Dutch themed steakhouse.
Unsurprisingly, there aren't many restaurants that would be considered fine dining. But the best restaurant of the year is old-fashioned this way, always observing relevant principles of good service.
L. was the best new restaurant of 2016.
Review: Jean-Roberts L is almost perfect
I have to admit, I was a little skeptical about a restaurant that was decorated on a grand scale this year. Didn't we bury fine dining with honors seven or eight years ago? Many people no longer feel comfortable with the service and luxury in the dining room. What they may not understand is that really good service makes you more comfortable. This is the case here under the supervision of the owner / Maitre d 'Richard Brown. I think one person could eat here alone, or order dinner and no wine, or have absolutely no idea what any of the words on the menu mean and still feel respectfully cared for.
Get the best of Cincinnati on your phone. Download the Tasks app on both Apple App Store and Google play.
And if you're a seasoned diner who can spend a lot of money, you can also order fine wines and add the caviar course to your Prix-Fixe menu.
Either way, you would have a nice meal. The food – by Jean-Robert de Cavel, Chef Brett Crowe, and Pastry Chef Katie Lopez – is delicious. I would love to see something that is a little more daring, modern, and unexpected. But for a no-frills gourmet experience, L takes a place in Cincinnati that has been empty since – well, since Pigall's and Maisonette.
Best New Casual Restaurant: Maple wood is a new from Thunderdome Group, owners of Currito, Eagle and Bakersfield. Like these restaurants, it serves the type of food that is answered instantly by customers, is not out of reach, and is very well executed. The breakfast menu, which ranges from cold-pressed juice to avocado benedict, is just familiar and exotic enough to suit everyone. Thanks to the order format, you can eat quickly. It is known as a power lunch spot in the city center. The same reasons make it good for a quick lunch or dinner. Or slowly – you don't have to hurry. (North Star at Liberty Center is very similar, with the same set-up and combination of healthy meals with large pastries.)
Flashback: Maplewood hits the porthole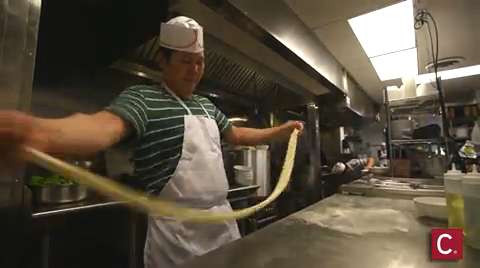 Best New Ethnic Restaurant: Fortune Noodle House. This new Chinese restaurant is the perfect move for anyone who likes Chinese but wants to explore the cuisine further. Here you can try homemade noodles, which are identical to regular noodles, but better mala shells with the tingling of Sichuan pepper and dishes from northern China that are not on the standard Sino-American menu. Many Chinese students from the University of Cincinnati across the street add a lot of energy to the atmosphere and give the food a stamp of appreciation.
Fortune Noodle House has magical noodles
Best New Restaurant in Kentucky: It's been a good year for Northern Kentucky as Covington and Newport are undergoing a revitalization. Coppins, a deliberately confident Kentucky-style restaurant in the new Covington Hotel, truly represents its city and offers a variety of dining experiences, from bar counters to a glass-enclosed dining room or courtyard weddings.
Best New Chain: Local pizzeria. This place is at the forefront of how really good food can be spread widely. Their thinly crusted pizzas are delicious, quick, and not too expensive. Spin-off from a regular Italian restaurant in Boulder, its national expansion is supported by Chipotle. I can't stay away from it.
Second Honorable Mentions: The opening of the Commonwealth was part of Covington's exciting transformation, Dolsot Bistro expanded the options for Korean food, Taste of Belgium expanded the options for Belgian food with a new restaurant in Banks, 99 Restaurant has an additional space for authentic Chinese food and dim sum makes taglio pizza take away, Flip Side in Liberty Center and Bru Burger Downtown have added new burger options. Purple Chicken brought southern food to Dayton, Kentucky. Just Q'n serves an excellent barbecue evening in the new entertainment district of Walnut Hills and Velvet Smoke in the far west of the city. Frenchie Fresh shows how to make a classic fast-casual restaurant with French food.
Places that opened in 2016 I haven't been there: Panino, Neuf, Please, French Crust.
We're looking forward to these in 2017: Harvest Pizzeria in OTR, Holtman's next location, Shapiros Deli in Blue Ash, CWC (the restaurant of the Cooking with Caitlin team), the new Senate in Blue Ash, Urban Grille in Newtown, Doc Crow's on the banks, Casa Figueroa in Pleasant Ridge.
Some closings, unfortunately: Bella Luna, Meatball Kitchen, Enoteca Emilia, Anea Bistro, Barrio, Daveed's, Rookwood.