In the mid-19th century as German immigrants flooded into Cincinnati, they quickly established places of worship. The Over-the-Rhine neighborhood, in particular, had huge Protestant and Catholic churches on almost every block.
 
But these structures celebrating life's joyful and sad events couldn't move when congregations inevitably relocated. New congregations adopted a few, but most fell into disrepair. By the end of the 20th century, a majority were candidates for demolition, neighborhood eyesores if not outright hazards.
 
But as urban centers have attracted a new generation of citizens eager to live in walkable neighborhoods, many churches are finding new life.
 
The formal term is "adaptive reuse." Those concerned with historic preservation view it positively, and it's proving to be good for business, too, especially brewing beer. As the craft beer movement grows in Greater Cincinnati, purveyors are seeking venues to brew and serve, and thus several churches have been reborn with new secular life.
 
Once-sacred places are increasingly valued where urban living has become stylish. Redevelopers in Over-the-Rhine, Northside and elsewhere agree: They see themselves as stewards of historic architecture, and they mean no disrespect. In fact, they believe their restored buildings fulfill a celebratory function that first brought people together 150 years ago.
 
 
Taft's Ale House
 
Kevin Moreland, one of the partners of Taft's Ale House in Over-the-Rhine, has worked in the beer business for years. In the 1990s he spent time with BarrelHouse Brewing Company on 12th Street, one of the city's first microbreweries.
 
For his own brewery, then, OTR was his singular destination.
 
In 2012, he connected with the Cincinnati Center City Development Corporation (3CDC), which was in the process of stabilizing St. Paul's German Evangelical Church (1429 Race St.), built in 1850. It had an active congregation until the 1980s, but since then it had seriously deteriorated and was at risk of being demolished. Moreland and his partners stepped up.

He points to a plaque above Race Street on St. Paul's bell tower with three German words: Wahrheit, Tugend, Freiheit.
 
"That's 'truth, virtue and freedom,' our motto here," Moreland says. "We didn't just get this building because we wanted to create a different atmosphere. Truth, virtue and freedom are what the craft beer industry is all about. We live by what's been plastered into these walls since the 1800s."
 
Moreland has been fanatically committed to the details of finishing out the building and connecting it to America's 27th president, Cincinnatian William Howard Taft. He spent time at Taft's birthplace in Mt. Auburn, absorbing numerous ideas to replicate at the alehouse.
 
"As I read about Cincinnati history, Taft's name kept popping up," he says. "He pushed stables out of the White House and put in automobiles. He was the first president to campaign from a train. We thought it would be a dynamic combination to make him more prominent in a brewery where people can socialize."
 
Moreland wanted to be ready to answer anyone who expressed concerns about situating a brewery in a church. Fr. Jack Kroeger told him, "Kevin, I think God would rather see the building still standing than be torn down. No matter what it becomes, it's still here and it's alive."
 
Moreland adds, "We put life back into it. It wasn't going to be a church again. It had been vacant since 1984."
 
For years a drugstore operated in the church's street level, a business that supported the church. Taft's has preserved that space as "Nellie's Taproom," in honor of Mrs. Taft.
 
"She liked a speakeasy style," Moreland points out. "She was more of a social drinker than Mr. Taft, so we focused on that. We wanted the space to feel like a speakeasy, a parlor feel where you walk up to the counter to order."
 
Taft mementos and photos are on view throughout the renovated three-story facility, from golf clubs (he was an inveterate duffer) to a big brass Sousaphone (she was an early benefactor of the Cincinnati Symphony).
 
"People need to cherish this building," Moreland says. "They won't get buildings like this again."
The renovated church has many new details. To recall the church's altar, Moreland placed large tanks at the head of the sanctuary. "Behind the bar they are a focal point," he says. "They hold all the beer produced here, eight oversized kegs, 620 gallons each." They store most of the 10 brews created regularly for guests' enjoyment.
 
The beautiful hand-carved bar was made by American Woodworking in Amelia. All 300 new spindles for the balcony railing were turned by one craftsman.
 
Food is also another focus at Taft's: One of Moreland's partners, Dave Kassling, operates the Tri Tip Grill in New York City, and its beef-based menu has been replicated here. There's also chicken and salads, all delivered with an emphasis on speedy service.
 
The main floor has long tables for community seating; the church's balcony is a mezzanine overlooking the lower level with quieter dining tables. There's a private room for 15-20 in the bell tower, featuring a round table and a refurbished chandelier from the Drawbridge Inn's beer museum in Northern Kentucky. Staircases allow access from one level to another — and afford a peak at a mural of St. Paul that's been preserved on the wall behind the brewing tanks.
 
St. Paul's raised right hand has his thumb and index finger about two inches apart. Moreland smiles and says, "I like to say he's telling us, 'We came this close to losing this building.'"
 
Instead, the church's spectacular renovation sets up Taft's Ale House as a latter-day OTR institution.
 
 
The Transept
 
For a long time, Josh Heuser had his own obsession: the old St. John's Church at 12th and Elm streets in Over-the-Rhine.
 
Heuser was a partner in OTR's Club Clau. After it closed in 2004, he researched one-time event venues and visited the 1868 German Gothic Revival church across from Washington Park.
 
He spent a decade yearning to bring it back to life. He established an OTR events and brand marketing firm, AGAR, where he developed the smarts to make a space work.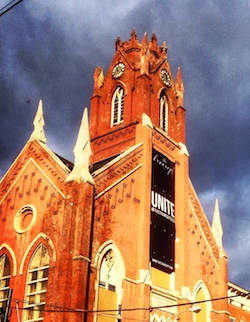 But it wasn't until he met Michael Forgus that things clicked into place. The progenitor of several popular eateries bearing his nickname, Funky's, he runs a thriving catering business.
Forgus and Heuser decided the church could be an event center. Heuser named it The Transept, a word for the aisle of a building that crosses its main body — in other words, an intersection.
 
"It's the hallway that crosses the central part of the building," Heuser says. "For three or four years, sometimes in freezing cold, I walked people through it. No matter where you are in the building, there's an 80 to 90 percent chance you'll walk through that hallway."
 
Heuser has carefully researched the church's history.
 
"I'm a steward of this building," he says. "It was a church most of the time, but it's changed ownership. At one time it had a pharmacy.
"I'm lucky to be one of the people who's been the building's protector and caretaker. The project is bigger than me, with many stories behind it. The original church, now St. John's Unitarian congregation in Clifton, had its 200th anniversary in 2014, and I gave them a tour of the space. That's history."
 
After the Unitarian congregation headed to Clifton in the 1930s, the building stood empty for years before a Pentecostal congregation moved in, staying until 1993. It's been unused since, but that's changing now, as construction readies The Transept for events this fall.
 
"By the fourth quarter we'll be busy," Heuser says. "We already have half the weekends booked and six or seven weddings in 2016."
 
Like Taft's Ale House, The Transept's $4.7 million renovation will offer three levels. A taproom at street level will be open seven days a week. The sanctuary, renamed "The Assembly," will accommodate 260 seated or 700 for a concert. "The Gallery," a third-floor balcony, will afford views of Washington Park.
Collaborating with 3CDC and the Cincinnati Park Board, The Transept is prepared to accommodate events involving all the neighborhood's attractions.
 
"Churches are a celebration of life," Heuser says, "and we're creating a place for celebration."
He's convinced he's doing right by this sacred space that's gripped him for more than a decade.
 
 
Urban Artifact
 
Over-the-Rhine isn't the only neighborhood where historic churches are being adapted.
 
The guys behind Urban Artifact almost ended up there, too, with plans in 2013 to use the Jackson Brewery/Metal Blast building on Mohawk Street in the neighborhood's northern end. But the cost to bring the 1859 structure back online as a brewery and arts center was too much, according to Scott Hand, a UC-trained architect who's one of four partners in Urban Artifact.
 
After months of hunting, they settled on the former St. Patrick's Church at 1662 Blue Rock Street in Northside.
 

"We liked the existing arts community," Hand says. "One of the most important aspects of our 'urban artifact' brand is collaboration. We're doing lots of collaborative things with art and music and beer. That was already heavily instilled in this neighborhood."
 
Asked about the brand, Hand says, "We are trying to bring back pieces of history. My focus was bringing back this historic building, the brewers are bringing back old-style beers."
The music they present will be varied but with a lot of jazz.
"All those things together turned into an 'urban artifact' discussion every time we talked about it," Hand says.
 
The church and adjacent buildings had been adapted for Queen City Cookies, so some of the work was already done. A gymnasium had been renovated for baking, with updated utilities and a new ceiling, so converting it to a two-vessel, 30-barrel brew house wasn't complicated. That's where they'll brew several varieties of historic tart and sour ales.
 
The church itself isn't quite as historic as the OTR structures. Hand says the Gothic Revival church was built in the 1890s, but its flying buttresses and facades are actually brick covered with sculptured concrete resembling sandstone.
 
Nevertheless, the building's bright, airy sanctuary seems ideal for arts, culture and celebratory events. Trappings and pews are gone, but by 2016 its tall windows and dignified demeanor will be readied for groups like New Edgecliff Theatre (performing group that operated in a small East End church building until 2012) as well as music concerts and weddings for as many as 500 guests.
 
Downstairs from the sanctuary, once a social hall with a kitchen, has been converted into a sleek taproom and music lounge with space for 200, where Urban Artifact's beer has been served since opening in April. Local bands are being scheduled, and the Blue Wisp Big Band has settled in as a regular feature on Wednesday evenings. The adjacent rectory building has offices for nonprofits and will become a second location for Corryville's Meatball Kitchen.
 
 
More to be found
 
Inventive reuses of churches can be found all over Cincinnati and Northern Kentucky. One of the first was St. Paul's Church in the Pendleton neighborhood northeast of downtown, renovated in 1981 by the Verdin Bell Company. Initially operated as a church market selling bells, vestments, pews, hymnals and other church paraphernalia, today the 1850 Roman Catholic church is a popular events center.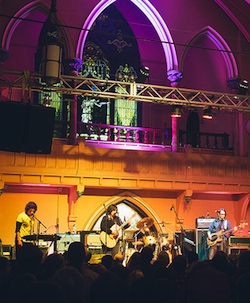 Southgate House Revival
In Newport, the 1866 Grace Methodist Episcopal Church (111 E. Sixth St.) became the home of the Southgate House Revival in 2012, presenting touring and local rock bands. A few blocks away a sister church to Grace Methodist was the Salem United Methodist Church (802 York St.), built in 1882. It was renovated for the Stained Glass Theatre in 1987, home of The Footlighters, a community theater group.
 
Adjacent to the University of Cincinnati on Calhoun Street is Old St. George, a Catholic sanctuary from 1873. Desanctified in 1993, it became a retreat and community arts center hosting music concerts and weddings. A fire destroyed its twin steeples in 2008. Today it's being restored by Crossroads Community Church, with plans to reopen in 2016.
 
If you have a development or programming idea for a church in a prime location, consider Phillipus United Church of Christ (106 W. McMicken Ave.), a beautiful red brick structure from 1891 with a steeple topped by a gilded hand pointing to the heavens. Located in Over-the-Rhine just north of Findlay Market near the top of the streetcar line, it's exploring new ways to build partnerships with nonprofits or commercial developments to serve and enrich the community. Church leader Sam Wyatt invites thoughts: [email protected].