The young Betty Ann Smiddy from College Hill takes the 78 bus towards the city center on Vine Street and is fascinated by certain buildings. She's not a professional architect or a student, just a young girl who admires buildings that inspire inspiration and curiosity about how good design should do.
That was decades ago; fast forward to today. Smiddy is still studying the work of 19th century Samuel Hannaford, Cincinnati's most famous architect, whose iconic designs include the Music Hall, City Hall, Elsinore Arch, and the Cincinnati Observatory.
"We didn't have a car, so as an adult I took buses everywhere," says Smiddy. "When I saw them there were certain buildings that made them feel friendly to me, as if I wanted to know more about them. They really engaged me as a kid when I looked at them. "
Samuel Hannaford's Memorial Hall in OTR (Photo: Josh Purnell)
In search of Hannaford's legacy, Smiddy contacted a relative of the architect who provided the opportunity to ask questions, study old letters, lists, and notes – anything to learn more and understand the scope of Hannaford's work.
"As I got older, I started looking, 'What about Samuel Hannaford? 'And there was really nothing,' says Smiddy. "I wanted to know more. Okay, he was an architect, but what was he like as a person? "
What Smiddy discovered was Hannaford's life in the context of a large influx of German immigrants in the mid-19th century.
"As an architect, Cincinnati was at its greatest growth," says Smiddy. "With a German population, they wanted buildings that reminded them of their homeland, like the Old St. George Church. They wanted buildings that looked substantial. For them the most important thing in the world was to have a piece of land with a house on it because they couldn't do that at home. "
Hannaford was progressive in his process, taking into account aspects of the design that were not always clear. He strove to build structures that could last several centuries. This often required innovations and solutions to problems that were unknown at the time: Hannaford experimented with flame-retardant materials and suggested that the city reduce the use of coal when the resulting dust covered the local buildings.
"He did what he could to keep things in good condition, low-maintenance, and safe – he was also very much involved with the idea of ​​ventilation," says Smiddy. "He used materials that were as easy to maintain as possible for their time."
A legacy lives on
Much of Hannaford's work was determined by his progressive thinking, sustainable design and attention to detail. And although he died in 1911, many current local architects and designers are still familiar with his techniques and ideas for sourcing high quality materials and constructing them sustainably.
The Cincinnati-based architecture and design firm Drawing Dept was founded in 2005. For the Drawing Dept team, design means delving deep into the context of a structure – beyond the programmatic requirements of a building – and learning all about a client before engineering decisions are even considered.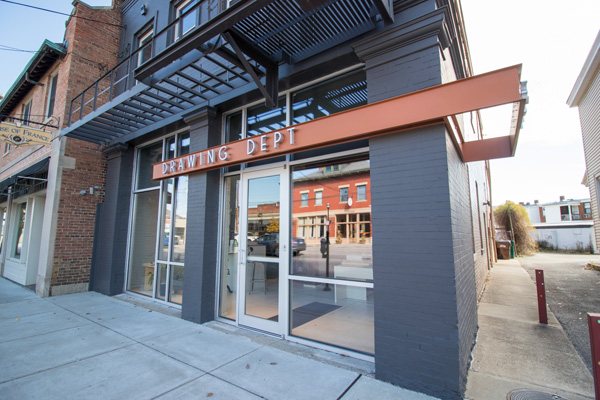 Oakley Drawing Department architectural firm (Photo: Josh Purnell)
"There is a deeper layer and architectural history that goes beyond the physical fabric of the city," says Rob Busch, founding partner of the drawing department. "For example, when we practice architecture we need to know that someone can craft tiles like Rookwood Pottery – we don't just develop them to make a vision a reality, but it actually affects the way we think, and it probably was The case in 1880, and I think it is just as true now. "
The same applies to wood, concrete or other building materials. "We have incredible woodworking and casework places around town – world class people making closets. We develop these resources. We have a craft industry that has survived here for 120 to 140 years and that still affects the way we make things, how we think about things. "
However, the company rejects the idea that a modern architect is a single "builder". For them, design is more collaborative and requires careful consideration of every aspect of a job and who is right for it.
"I heard Rob say, 'The guy who digs the trench, this expert is an expert at the trench. We need to talk to this guy because he knows something we don't, "says Ron Novak, another founding member of the company.
Busch agrees with this idea: "The best projects we carry out are very cooperative and really rely on other people's strengths. If we can get the best out of other people, we get good projects. It will not happen that we dictate it on paper. "
The employees in the drawing department are also inspired from within. You can approach a client with three or four ideas generated by different people in the office so that everything doesn't come top down.
"As soon as we don't use our team, we have failed," says Novak. "Everyone has different emotional ties, history, baggage, cleaning, memories, knowledge, skills. You'll see a room differently and challenge other team members, so we'll turn every stone. "
Drawing Dept focused on six awards at this year's Cincinnati Design Awards, working on buildings and businesses such as Sartre OTR, Please Cincinnati, Revel Urban Winery, and Brown Bear Bakery.
"All of these people touched us when we came into their lives and learned what is important to them," says Novak. "At Brown Bear Bakery, the first question we asked was, 'Why do you like to bake? "
Busch and Novak joke that this is indeed "the lost art of listening" and that approaching any project with this mentality allows them to discover necessary details that inspire the design and bring a feeling to a neighborhood or location. "You are enthusiastic about a project or what a customer is doing and you immediately switch to creation mode," says Busch. "You have to purposely slow down and make sure you bring them with you and that you really hear from them."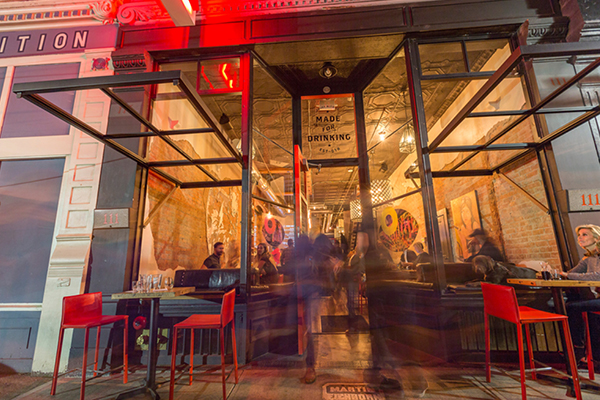 Revel Urban Winery in OTR (Photo: Drawing Department)
Creating a blueprint for future design
Of course, the architectural desires, expectations and constraints have changed since Hannaford's time. But great architects and designers have always found new ways to approach projects and solve problems. For Hannaford, this meant using materials to prevent fires at a time when flammability was particularly problematic, or to respond to the desire for buildings that reminded German immigrants of their homeland.
For Drawing Dept, innovation means listening, working together and constantly looking ahead.
"We rarely say things like 'typical' or 'we always' in the office," explains Busch. "Not that we don't learn from our mistakes or from history, but I think it's thin to try to make a connection like, 'There was good architecture then and now there is good architecture.'"
For lovers like Smiddy, whether they're looking at a classic Hannaford design or a new creation from a company like Drawing Dept, well thought-out architecture and design always solve problems, evoke emotions and tell a story. "The buildings are the touchstones of a church's history," she says.