Blending software and the systems they control give retailers an opportunity to deliver product more precisely with fewer mistakes saving time and money.
"The demands of dry fertilizer blending systems haven't changed significantly over the years, they've just been amplified," says Nate Wittmaack, President and COO, Ranco. "There has always been a desire to go faster, be accurate, remove human error, and eliminate breakdowns. That said, as growers get larger, agronomic products become more numerous, and blend plants cover more ground, the need for speed and accuracy has increased at an increasing rate."
While the blending systems might not have advanced much in recent years, the software that controls them continues to become more sophisticated offering users more detailed insight and control into their fertilizer usage.
"Blending software is critical for today's retailers," says Dan Murray, President ICS (Integrated Control Systems). "It not only improves blending, inventory, and billing procedures it dramatically improves grower satisfaction. Wholesalers and retailers can offer growers more accurate blends, faster. Retailers and wholesalers who use ICS share how they've been able to grow thanks to the better experience they're able to offer growers in terms of speed, responsiveness, and billing and blend accuracy.
"Many blenders also have safety and environmental concerns," he continues. "More equipment control via blending software equates to less exposure. ICS controls allow operators to centrally operate equipment, standing out of harm's way. In addition, ICS ControlPro has built-in traceability and accountability to address environmental concerns."
Benefits
"Blending software is a crucial component of how the retailer effectively serves the customer," says Matt Hull, Vice President and Director of Sales, AgWorks. "A part of this story that isn't always told would be related to live inventory management. With AgWorks toolset we can update and manage a retailer's inventory with every work order and batch they create. Effective and practical tools like this make for an ag retail service company that can always fulfill their customer needs."
It's about delivering what customers' need when they need it.
"The big benefits to the grower would be effective and timely application service management. An ag retailer serving the grower will be able to understand the inventory requirements needed to accommodate their grower demands," Hull says. "Additionally, their blend plant will be armed with the necessary information and tools to efficiently schedule and dispatch those."
Of course, these solutions offer more than simply providing product to end users.
"Well-connected blending software allows the operations team to deliver precisely what the agronomist prescribed, and seamlessly slides the completed ticket details to the accounting team," says Mark Mohr, Vice President of Sales and Marketing, Kahler Automation. "It connects intention to action with minimum effort and maximum accuracy."
Mike Barringer, Agronomy Support Manager, Software Solutions Integrated (SSI), agrees.
"There are many advantages to having an integrated blending application to help you through the busy application seasons," he says. "First and foremost, it brings consistency, efficiency, and flexibility to a company's blending operation. Often overlooked is the number of times the software can minimize or altogether prevent mistakes when creating blends. This means better inventory control for the company when the blends are consistent, and mistakes are limited. All this translates into better service for your growers."
For most retailers offering a blending service is not optional.
"Blend plant software is in a high percentage of ag retailers today," Hull says. "The retailers' usage of these platforms could be quite different depending on connections they have with that program. Requirements of the operation that includes blend plant software would be: simply manage customer work orders with a standardized product list, formulate fertilizer and chemical requirements and create batches, flexibility in batching quantities, interface connections with FMIS (financial management information system) in order to eliminate duplicate entry, update and manage inventory in real time, supply necessary DOT and compliance documents for shipping."
For many these offerings are no longer bonus features; they're table stakes for being a retailer.
"The grower gets what they expect, when they expect it, with fewer errors in product, and their accounts and tickets are accurate," Mohr says. "These are the fundamentals of good customer service, but when the majority of the year's business is conducted within a few weeks of a planting date or a maturity stage, automation is the only way to live up to your expectations for serving the customer."
Ensuring success, though, means everyone involved must collaborate and communicate.
"Effective implementation of a system is dependent on consulting with the using company and creating a plan to meet their needs," Hull says. "If there is a defined plan of how all parties involved are going to work together to reach the determined goals, success can be had.
"We see a lot of is that a using company may never get what they initially wanted out of a software purchase," Hull says. "This can be a result of a rushed implementation or a lack of documented Standard Operating Procedures. Establishing an effective implementation plan is an absolutely crucial part of success."
Keeping Up to Date
"As growers continue to consolidate, blending software offers retailers key competitive advantages," Murray says. "Since software like ICS ControlPro can be updated via the Internet, fertilizer and chemical blenders can get the newest technology immediately. No longer are they forced to upgrade or build an entirely new facility to get the latest features. With online training videos and webinars, the new features can be leveraged immediately."
While the hardware might not change that quickly, the software solutions are constantly being updated.
"Kahler's latest blending software is scalable to fit the needs of the facility, and user settings can be configured for just the tools they need," Mohr says. "A wholesale facility doing straight loads, a retail facility doing precision blends, a packaged goods facility loading and tracking totes, and a manufacturing facility making product to inventory each have their own needs. Sometimes all of this happens at the same facility and all the horsepower of the blending software needs to be turned on. Other times a simple single-purpose set-up gets the job done simply and cleanly for a user. Operators and managers look for well-supported and straightforward tools their operation requires now and look for extra capabilities to be out of the way until they are truly needed."
As retailers' and end users' needs change, the software must adjust to those new needs.
"It is critical for blending software to evolve and equally important for retailers to stay current with their updates," SSI's Barringer says. "As new products such as biologics, additive, and stabilizers are introduced to the market, software providers must react and enable their applications to handle the unique needs of these products. Another area important to stay current would be from a regulation standpoint. Whether it is providing the ability to collect and/or generate required records or enabling applicators to digitally sign the custom application document. Regulations will continue to provide challenges for retailers and software providers must continue to provide ways to help them manage those challenges.
Fortunately, while the solutions become more sophisticated, implementing them has not. A software installation is much simpler than it once was.
"The best services streamline installation," Mohr explains. "Kahler support technicians can, with the operator's permission and supervision, remotely access the computer or server to install and configure software. Kahler start-up technicians configure the settings for the specific facility and provide on-site essential training. Kahler training staff conducts advanced training courses on specific topics so operators get the focused knowledge they need. Before COVID most training was done in a classroom setting at Kahler Automation or at the customer's office. Today, operators can get advanced training remotely, even from the familiar setting of their own control room."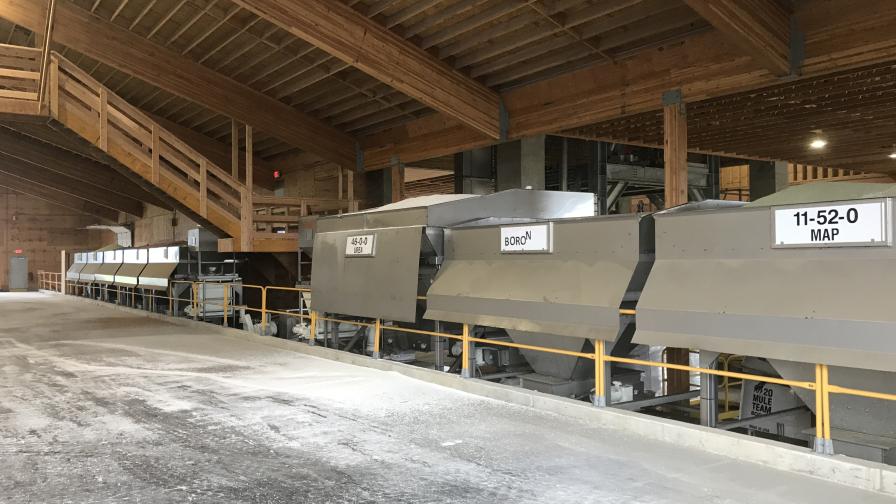 Technology can sometimes outpace a need — finding solutions for problems that don't exist. The precision agriculture space is rife with such issues. Ranco's Wittmaack avoids that potential using a pretty old-fashioned solution — talking with clients.
"We have been surveying our customers to learn how we can best continue to grow our footprint inside of this industry," Wittmaack says. "We believe that there may be opportunities for new product development to provide additional growth opportunities inside this segment. We have also executed several blending/material handling projects outside of the dry fertilizer space including coffee, rice, seed, feed, corn, and salt. Ranco's Canadian partner (Hi-Tech Installations out of St. Andrews, MB) are committed to growing their business, so some Ranco growth is expected alongside them. Finally, we have brought on a full-time international salesperson to look after our Australian and South Pacific region."
Challenges
"The greatest challenge with learning and using new software is remembering how to use it between seasons," Mohr says. "This is where refresher training and help screens within the software can refresh knowledge and help the operator be more productive and at ease when the busy season begins."
ICS's Murray has seen the same problem. "The issue we see most often is that customers learn a lot at the initial training, but if they don't use a feature regularly, they can forget how it's done or that it exists," he says. "That's why we at ICS place so much value on our online help, video library, and webinars. We're able to ensure that fertilizer and chemical blenders can extract the full value of their software and adopt new features into their processes as they grow."
Of course, no matter how useful a new technology can be, its success can only be ensured if those who tasked with using it are willing to invest time and energy in learning how to do so properly.
"It is very important for the leadership of a company implementing new software to communicate a strategy for success and to set the proper expectations to their staff ahead of implementing a new solution," Barringer says. "Replacing older software or eliminating handwritten tickets can be scary and intimidating for employees that have relied on those systems for a number of years and now they have a completely new way to make blends. These users need to have time to get comfortable with the new processes and understand that the company is committed to making the change and move forward by advancing their technology and improving their processes."
When it comes to finding a blending system solution, it shouldn't be solely based on price, Ranco's Wittmaack says.
"By in large, the factors of influence for purchasing/upgrading blend systems is no different than many decisions that we all make on a day-to-day basis," Wittmaack says. "First, can we be confident that we are purchasing value? This does not mean least or most expensive, but most value. For us, being able to offer quality equipment and the dedication to back it up with a full installation and service department helps provide value.  Secondly, at least a portion of every decision comes down to relationships. Relationship selling does not mean compromising value, it should supplement the value. Catalog selling is easy, but to provide systems that fit the customer need, a relationship based on open communication and shared understanding has to be created. This relationship instills confidence on the side of the buyer, and commitment on the part of the seller."
That confidence Wittmaack expects to translate into a healthy season moving forward.
"Based on the strengthening we believed to be happening pre-pandemic, and the industry signs over the latter portion of 2020, we believe that 2021 will be an "up" year in terms of dry fertilizer blending and handling infrastructure," Wittmaack says.
Company Updates: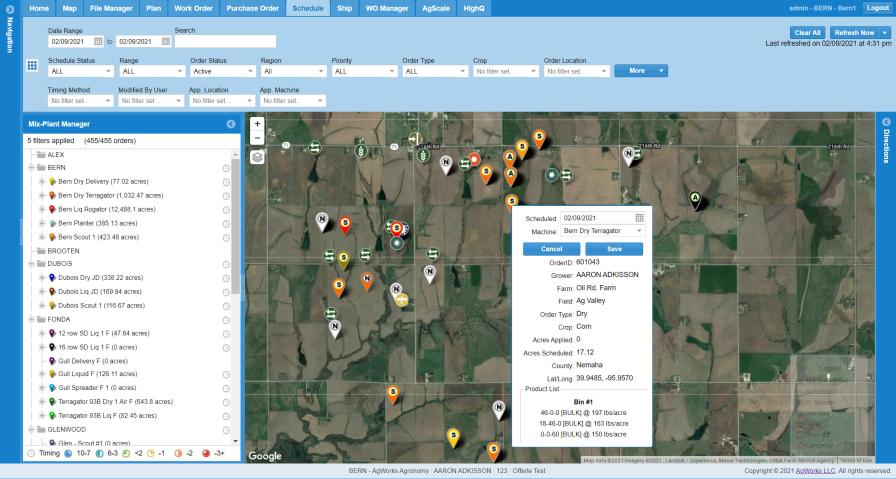 • AgWorks:  "One of the most exciting things released to customers allows them to place a delivery order to their retailer and request a specific drop of location and date all from their phone," the company says. This order is submitted to the retailer who can then dispatch through their blend plant for efficient mobile order delivery. All the while the using company's inventory will be updated in real time as the orders come in.
• ICS: ICS ControlPro is the complete control over sequencing. This new feature can speed up production and prevent downtime between blends. By producing blends with compatible chemistries and flushing lines at key intervals, taking into account pH levels, temperatures, etc., ICS can take blending efficiency to the next level.
• Kahler Automation: Kahler Automation blending software is a suite comprised of three simple elements: Terminal Management TMX (your facility's information bank), Plant Supervisor PSX (your facility's user interface) and an order interface that does the information shuffling for you, bringing orders from and tickets to your agronomy and ERP software. Terminal Management is scalable to deliver solutions you specifically need, using five powerful modules for dispensing, container tracking, inventory receiving, tank levels, and lot tracking. Plant Supervisor likewise scales up from base capabilities for blended loadout and dispensing, with an additional powerful module for manufacturing products to inventory. Kahler Automation's software is licensed and supported through a subscription that includes phone and remote support, live and online training resources, and upgrades and updates for the latest in blending and user capabilities.
• Ranco: Ranco rolled out the MeshDCS blend system in early 2020. The MeshDCS system is a Distributed Controls System. The Ranco Declining Weigh blend system has been the premier continuous blending system on the market since it was introduced in 2000. But the MeshDCS is the current generation that will significantly reduce the field wiring requirements and local electrician costs associated with putting in a new system. Also, the company has spent a lot of time over the last seven years building out our ability to supply industry leading automation and integration services with the equipment systems it sells.
• SSI: Most of SSI's recent updates to Agvance Blending have been around enhancing the integration with other agronomy tools in Agvance including the latest features in the Sky platform, which are now able to share and use this data. Blending users now have the ability choose an application zone created in the Sky Mapping platform. This allows the blend ticket to automatically use these application zones along with the digital order that is sent to the applicators using the Apply app. This information is also available in Sky Dispatch displaying the zones for the applicators. Providing the ability to specify a portion or partial area of a field to be treated means applicators can visually insure they are working in the correct area of the field and have the correct acres. This is just one small area the company has added and is continually improving the software that will benefit retailers using Agvance.


0
1
5

Fertilizer Blending Systems: Technology Solutions for Modern Agriculture


Jacobs is Managing Editor for CropLife's sister publication, AgriBusiness Global magazine, Willoughby, OH. See all author stories here.