CINCINNATI – Approximately 4,500 people will travel to Cincinnati over the weekend of July 4th for the 133rd annual International Moose Convention.
From June 30th to July 4th the group will discuss the worldwide operation of their lodges and fraternities.
The Cincinnati Reds are on an extensive homestead including a weekend game with the Chicago Cubs. And everyone knows that Cubs fans travel well.
This holiday weekend is an important milestone for the local tourism and hotel industry, which has suffered badly from the pandemic over the past 18 months.
"The pandemic has certainly had a crippling impact on the travel and tourism industries locally and across the country," said Julie Calvert, president and CEO of the Cincinnati USA Convention & Visitors Bureau (CVB).
What you need to know
The loss of 166 conventions / conferences due to COVID had a negative economic impact of $ 114 million
Some events are returning to the region
Vacation travel still far surpasses business travel
The numbers are expected to be close to the 2019 numbers again by 2023
Calvert remembered March 7, 2020 as the "great apostasy" date.
Duke Energy Convention Center in Downtown Cincinnati (Provided)
"Events have been canceled, meetings have been canceled, (hotel room) occupancies have really just started to spiral downwards. And that continued through 2020, "she said.
According to the CVB, a total of 166 groups canceled conferences or conventions in Cincinnati / Hamilton County last year. The Duke Energy Convention Center only hosted 20 events in the 12 months after the pandemic began.
These canceled events represent 132,000 hotel room nights lost. The CVB estimates 1,730,000 people would have stayed in these rooms – and ate Cincinnati food, drank Cincinnati beer, and bought Cincinnati goods.
It never happened.
The negative economic impact of losing these events was $ 114 million, Calvert said. And this number only reflects events that are planned via the CVB.
It does not include the effects of losing signature events such as the Taste of Cincinnati, the Western & Southern Open, the Cincinnati Music Festival or the Oktoberfest Zinzinnati, one of the largest events of its kind in the world.
"The convention business, along with events, trade shows, conventions, and galas, and the events we host … are an important part of the health of downtown Cincinnati," said Ric Booth, general manager of the Duke Energy Convention Center. "Hotel nights are the foundation of our funding and add tons of extra dollars to the central business district," he added. "As our local restaurateurs and small business owners know: when congresses come to the city, everyone in the city center is fine."
Calvert said hotel occupancy was at its lowest point at 16%. The Cincinnati-Northern Kentucky International Airport (CVG) at times only recorded 300 to 400 passengers a day.
To stabilize the downtown economy, the City of Cincinnati and Hamilton County worked with the Cincinnati USA Regional Chamber to put funds and other resources in the hands of small businesses.
Streams and small business grants were created. Funds were raised to support childcare facilities. Free protective equipment for workers and hand sanitizer for businesses were provided.
Hundreds of millions of federal aid under the American rescue plan have not done any harm.
The "Get Your Cincy On" campaign, led by CVB and chambers, aimed to get people to support local businesses.
"We encourage people to shop, eat, and sleep in our hotels, and support their neighbors," said Stephanie Summerow Dumas, president of the Hamilton County Commission. "I believe that all of our combined efforts mean that we all have a better future ahead of us."
The release of COVID vaccines and the lifting of many restrictions have helped travel and tourism gain momentum in recent months. Candace McGraw, CEO of CVG Airport, said she expected passenger traffic this summer to be 75-80% of the 2019 total.
Last month, they saw around 10,000-12,000 people go through security on peak days, she said.
"With conferences and other larger gatherings (such as trade shows) returning this summer and fall, we expect domestic leisure travel to make a full comeback by the end of this year," said McGraw. She added that business and international travel will gradually recover in 2022 and 2023.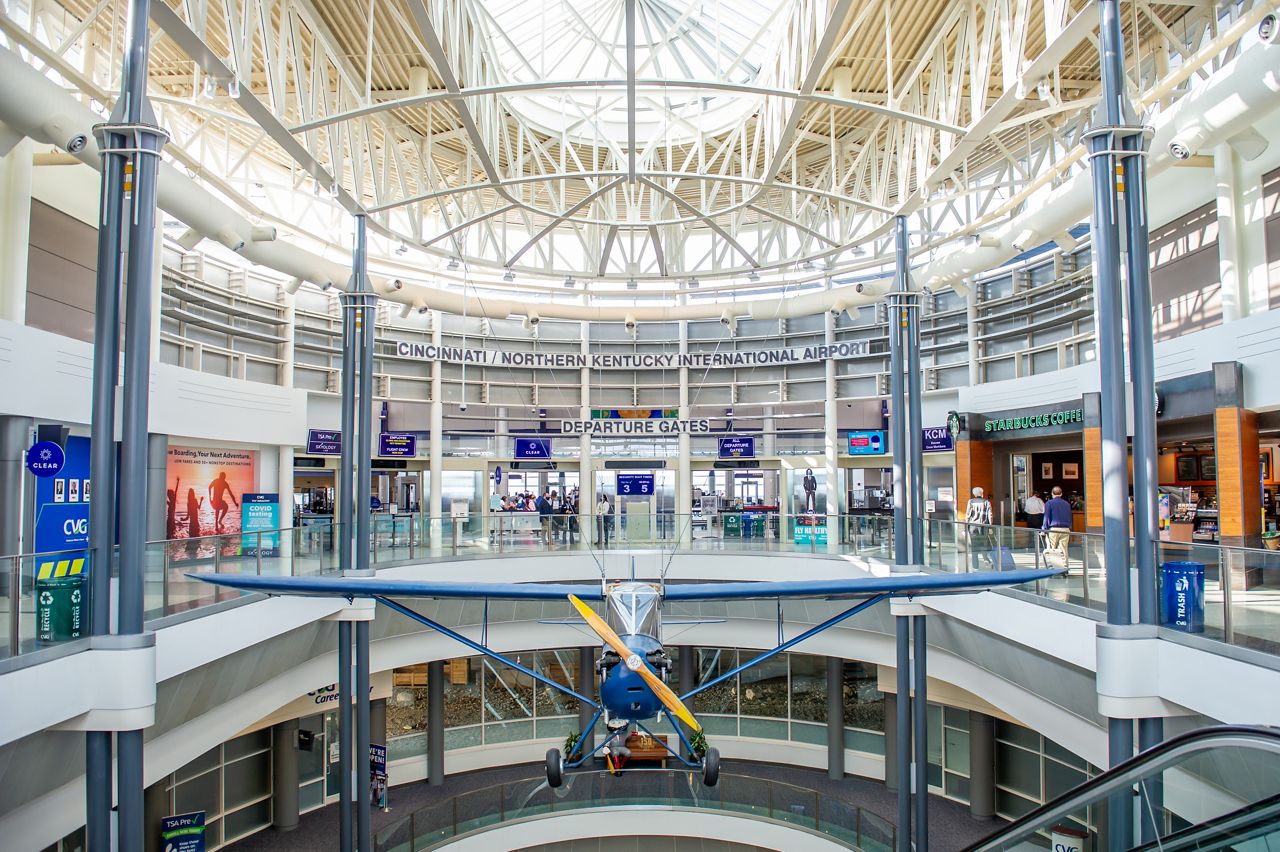 The terminal at CVG airport
Business travel is also an important economic driver for the local hospitality industry. McGraw said national data suggests business travel has improved by 20 points over the past two months, but only around 35% from 2019 levels.
Calvert said people feel "pent up" and are looking for things to do. There are plenty of locals staying or visiting people from all over the area, she said. This is good for the bars, restaurants, museums and other shops.
But they need business trips to return.
"We're seeing a lot of activity on the weekends with hotel occupancy rates in the 80s (percent range), but it's still a little weak during the week," Calvert said. "We know it will increase if people continue to feel safe."
However, things are improving, Calvert said. As a sign, she referred to a conference that the city hosted in autumn 2020.
The International Aviation Forecast Summit brought airline executives from around the world to downtown Cincinnati in October. Originally, around 800 people would have attended the event, but only around 100 showed up in person.
Still, it's a good place to start, said Calvert. Some hotel rooms filled up. Bars and restaurants had foreign guests. And things looked rather normal.
"It was a really good time to host this event because it gave us a first place to analyze trends and look at industry outlook and recovery for the aerospace industry," said Calvert.
Booth said the convention center's capacity constraints were "almost normal". He said they hope to get back to normal operations 80-90% by the fall. About 85-90% of the canceled events have been rebooked, returning by 2022 at the latest.
The National Private Truck Council took place earlier this month. It brought about 1,000 people to the area for the two-day conference.
Other events this summer include the Pure Romance Convention, a comics expo, a regional homeschooling conference and the Flying Pig Marathon.
"We have a really strong convention lineup for the rest of the year. That tells me people are getting out and ready to step out," Calvert said. "We are looking forward to the rest of the year and what is to come."