Cincinnati Masters 2019: Novak Djokovic, Ashleigh Barty and Richard Gasquet in the semifinals; Naomi Osaka is retiring with a knee injury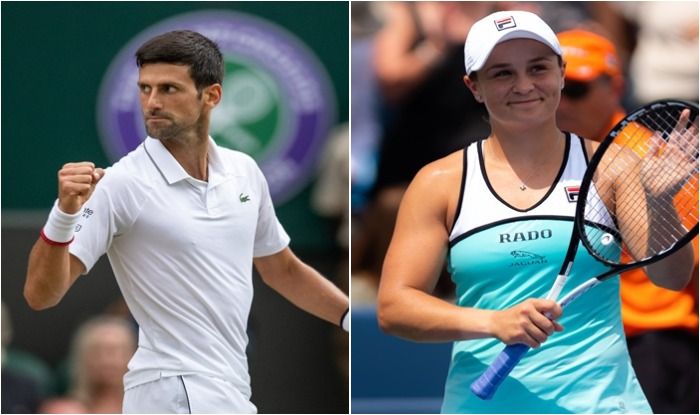 World number 1 Novak Djokovic put on another strong show against Frenchman Lucas Pouille to successfully defend his title in the ongoing Cincinnati Masters 2019 tournament. After a slow start in the first set, the high-ranking Serb was on top form to take a straight-set win in the quarter-finals on Saturday. The 16-time Grand Slam champion will next face Daniil Medvedev, who defeated Russian compatriot Andrey Rublev, who defeated Roger Federer 6-2, 6-3 this week. Also read – French Open postponed for a week due to COVID-19 outbreak, from May 24th
In the other men, Richard Gasquet prevailed in three sets against the Spanish veteran Roberto Bautista Agut and moved into his first Cincinnati semifinals, the first Masters 1000 semifinals in six years (since 2013 in Miami) and seventh place overall. He will play for a place in the final against 16th seed David Goffin, who advanced in a walkover against Japanese qualifier Yoshihito Nishioka, who was unable to play due to illness. Read also – Serbian model reveals bomb attack on blackmailing Novak Djokovic in sex extortion fraud
Another achievement from @DjokerNole! Read also – Tennis: Novak Djokovic skips Rafael Nadal, Roger Federer skips the Miami Open 2021, saying that this time must be used to spend time with family
🎥: @TennisTV | #CincyTennis pic.twitter.com/cK63D9OdPL
– ATP Tour (@ATP_Tour) August 17, 2019
In the women's draw, Ashleigh Barty moved closer to returning to the top WTA rankings and reached the semi-finals when current number one, Naomi Osaka, was eliminated with a knee injury. Barty, the top Australian seed, made their second comeback on Friday in as many days and overhauled Maria Sakkari with 5: 7, 6: 2, 6: 0.
But the US Open alarm bells rang for Osaka less than two weeks before her Flushing Meadows title defense began after she pulled back against Sofia Kenin after a left knee injury and sent the American into the semi-finals with a 6-4, 1-6 , 2-0 win.
"I managed to finish the game and it was a bit tight," said Djokovic.
"Hopefully everything will be fine for tomorrow."
Osaka's problem with his left knee was rather worrying. The Japanese star admitted that this was a cloud over her upcoming US Open title defense. "Last year I won the US Open and this year I'm trying to play the US Open," she said.
. @ Naomi_Osaka_ retires due to injury @ SofiaKenin moves into the semi-finals of #CincyTennis.
-> https://t.co/4LcaFULttB #Naomi Osaka pic.twitter.com/ezowazR3X7
– WTA (@WTA) August 16, 2019
"I don't even really think about winning the tournament. I just want the chance to play it now. If there's a 1 percent chance I won't play it, that's my business. "
Osaka had won the second set to end the match when she first complained of apparent knee pain and challenged the physical therapist after a third set game. Osaka played one more game with the badly taped knee before packing it up and sending Kenin to the semi-finals.
The French Open champion Barty will play for a place in the final against the Russian veteran Svetlana Kuznetsova, who defeated the third seed Karolina Pliskova 3: 6, 7: 6 (7: 2) and 6: 3, for the chances of the Czech to finish in first place ranking next week.
Pliskova, who started the match 5-4 in the second set, was broken. Kuznetsova dominated the ensuing tiebreaker, taking command in the third set as Pliskova began to fade.