As more local breweries begin to take advantage of nonprofit programs and work with the community in meaningful ways, giving back quickly becomes something worth celebrating – maybe with a pint of your favorite local brew.
The narrow path leads to community
North of town, a two-lane road winds through rolling hills and makes its way into historic downtown Loveland. There is the Narrow Path Brewing Company, nestled behind Tano's Bistro and next to a popular section of the Little Miami Bike Trail.
Chad Powers, the narrow pathThe place was full on a last Thursday evening. Co-owner and founder Chad Powers says the business has remained stable since it softly opened in late December. The atmosphere is warm and relaxed, with a friendly neighborhood feel.
Narrow Path's success is due in part to word of mouth over the past few months. But it all started five years ago when Powers and his friend and fellow brewer Greg Snow began brewing beer together on Snow's Deck in Fairfield.
Today Powers and his family live just a few blocks from the Narrow Path, where Loveland Fitness used to live. When the property became available in June, the friends took the opportunity to invest in a prime location close to their home. They hope to give back to the local community and beyond, and to support charities they believe in.
"For us, giving back has always been part of who we are," explains Powers. "Our philosophy is based on the idea that the best way to make our world better is to work with individuals and organizations who bring hope and help to our communities both locally and globally."
Narrow Path has a potential root cause review process and partnerships that work with global humanitarian organizations and local nonprofits to ensure steward donations are earned.
"We certainly have causes that are very important to us," says Powers. "In the next few weeks, months and years you will see them at our cause table in the taproom. We would be happy if issues and organizations emerge organically from our community. Our goal is not only to provide financial support, but to expose people to the amazing work that is being done in our neighborhood and around the world. We hope, through this disclosure, to relate people at the heart level to these causes. "
This April, Narrow Path, along with other local businesses, will donate a gift in kind to the Hope for Henry fundraiser, in honor of Henry Rogers, a Loveland baby in need of a kidney. Local brewery colleague MadTree is sponsoring the event at their new location on Madison Road, Oakley, due to open this spring.
MadTree celebrates new location and new perspectives
Charitable giving and community development have been an organizational goal for MadTree from the start. Their mission is to be the most respected brewery in the region, a mission they aim to accomplish in three main areas: quality beer, people (employees) and community.
"Community is a key component of the success we've had," said Mike Stuart, who leads MadTree's social strategy and human resources. "We firmly believe that beer creates community and community builds beer. Community is not just something we talk about, it is something we live and breathe every day."
Stuart says he receives requests to sponsor charity events on a daily basis, and MadTree strives to get involved in as many local causes as possible. The brewery supports five core charities annually and sponsors a "Charity of the Month" to generate additional support and awareness. Partner charities include the CityLink Center, the Cincinnati Community Toolbank, and Green Umbrella.
A few months ago, a former MadTree employee suggested they run the Hope for Henry fundraiser. The brewery was keen to help in the way they know best and was quick to sign up. There was space for the event at their new location.
"We love doing what we can to help children's charities and we are very excited to be helping this charity," says Stuart. "We were interested in Henry's story and whenever we can give something back, we give back as generously as possible. It's a great way to bring people together to band together for a good cause. "
In addition, MadTree's Toss-A-Buck program benefits a new charity each month. Customers toss donations through the metal grate above the bar and at the end of the month funds are collected and donated to a local charity. Recipients included organizations such as YMCA, Susan G. Komen, the Cystic Fibrosis Foundation, and Toys for Tots.
Learn more about MadTree's engagement in the community here.
Rhinegeist interferes and focuses on children in need
Rhinegiest has been actively involved in community philanthropy since it opened on 19th and Elm Streets in 2013.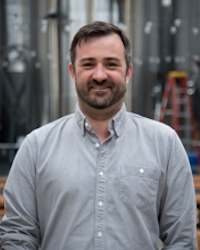 Jon Colasurd, Rheinist"As we grew, we wanted to be able to give back to the community," said Jon Colasurd, general manager of Rhinegeist. "It became an official part of the organization about two years ago."
Now the brewery has a dedicated staff reviewing charitable inquiries and directing them through the channels required.
Colasurd and his wife are foster parents so naturally the brewery is looking for ways to sponsor organizations that focus on children in need.
"There are a lot of charities that help children," says Colasurd. "Every way we can help with children is important to us."
To that end, Rhinegeist donated a Cincinnati beer basket to the Hope for Henry fundraiser at MadTree in April, and partnered with other local breweries to raise donations and raise awareness of organ transplant cases.
Rhinegeist also sponsors a monthly art exhibition in Over-the-Rhine called Art on Vine. A portion of the proceeds will go to OTR charities, and the event gives local artists a chance to showcase themselves across the city.
Every Wednesday evening from 5pm to 8pm, Rhinegeist and Cincinnati Public Radio jointly host an event called Charitable Suds in the taproom, where guests can "have a beer and donate to the cause," with a portion of the proceeds going to local charities.
"Obviously, it's good for the nonprofits to get extra funding, and it also gives them some kind of platform and recognition to help raise awareness," says Colasurd. "We're trying to encourage the organization's staff to come that evening, be present and engage with people who are curious about what they're doing. They are not blown events; They are a relaxed environment to come out and have a beer, have a good time, and do something good for a charity. "
Find out more about Rhinegeist's weekly and annual charity events here.
Fifty West breaks out of the pack with more than good beer
Last year the Fifty West Brewing Company co-sponsored a benefit polo game and partnered with another local brewery to support the Cincinnati Children's Hospital.
Then in June the brewery sponsored Punch Out, a boxing event where all proceeds went to the mixed-use Wasson Way Trail project. The event drew more than 2,000 guests and included five boxing matches and more than 50 beers from local breweries.
"This industry is based on the idea of ​​doing things with your hands, enjoying something that has never been done before, being innovative and helping others," says Thomas Hemmer, spokesman for Fifty West. "The Cincinnati ecosystem has fully embraced this lifestyle, and I think it's a really admirable thing for the industry to do. It's a nice thing to see charities band together for good causes. "
Hemmer explains that Fifty West has a community ethos with programs that are all about being outdoors together. He says the brewery strives to get into as many causes as possible and only turn down an event if the cause doesn't match the brand.
"We're in an industry where everyone sells similar products," says Hemmer. "Every brewery sells an IPA. At Fifty West we not only focus on the product, we also create experiences where our guests can not only enjoy a really good beer but also have an amazing memory that lasts much longer than the beer. "
Check back frequently for the latest information on the next Punch Out event on July 8th. For more information on Fifty West's nonprofit spin in the areas of canoeing, kayaking, volleyball, cycling, and running groups, please visit here.
One of Cincy's oldest names in beer joins the foray
Every month Christian Moerlein hosts a pint night for Cheers for Charity and a tap night for charity, in which the proceeds from each beer are donated for various purposes.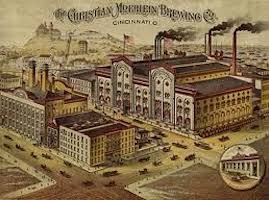 Historic Christian Moerlein Brewing CompanyIn cooperation with the local Flying Pig Marathon, the brewery developed a Christian Moerlein Beer Series, which consists of the Bockfest 5K, Little Kings Mile and the Hudepohl 14K Brewery Run. The proceeds will support the revitalization of the Cincinnati Brewing Heritage Trail.
"The reason we get involved in our community is to give back, to make it stronger and more alive," said Greg Hardman, CEO of Moerlein.
The brewery also hosts monthly charity events in their taproom in the brewery and the Moerlein Lager House on the riverside.
Christian Moerlein will organize Bockfest events in this regard March 3rd to 5th in the brewery as well as a fish roast for Lent with proceeds for the benefit of the St. Francis Seraph School.
Visit Christian Moerlein's Facebook page for information on upcoming charity events.
Do you know any other brewery in town that is doing good things for the community? Let us know and we'll add it to our growing list!