148-year-old art academy is considering building a Cincinnati that art graduates will want to stay in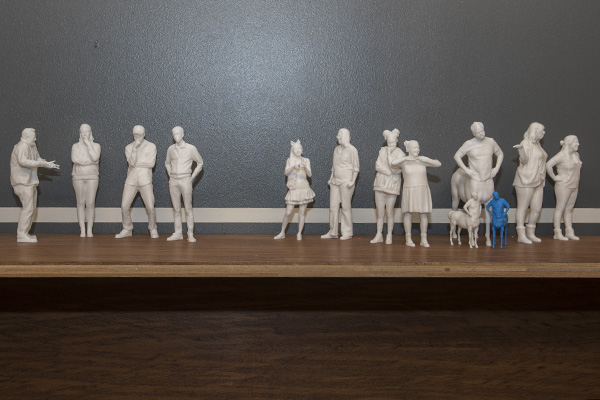 While local business continues to have a huge impact on Greater Cincinnati's transformation in recent years, much of that growth – especially its cultural impact – can be attributed to the Cincinnati Art Academy, an unmatched provider of arts education in the region and beyond.
Many famous artists have gone through AAC in the 148-year history of the school and shaped our scene as well as that of larger cities. As an AAC instructor, the famous painter Frank Duveneck taught industrial designer Russel Wright and portraitist M. Jean McLane, both of whom were internationally recognized. Famous graduate Charley Harper later refined his signature Modernist style while living, working and teaching here.
Now, after decades of creative escape that for a time threatened Cincinnati's creative identity, the AAC administration can look back on a milestone anniversary, countless successes and a special point of pride: the growing number of graduates who, thanks to a renewed association, are looking for a stay in Cincinnati decide on the art scene and institutionally forged partnerships that have expanded the availability of sustainable local jobs for visual artists.
In 2016, Xavier University's Community Building Institute published a Community Impact study that found AAC contributes approximately $ 1.9 million to the local economy each year. The study also showed that there are currently more than 120 local businesses employing AAC students and graduates – almost twice as many as in 2005 when AAC from Mt. Adams to Over-the-Rhine.
These local employers – which include art galleries, marketing agencies, and a number of retailers – make all the difference in graduates' decision to stay in Cincinnati, according to Joan Kaup, vice president of AAC.
"Cincinnati has developed so creatively that it is less necessary for artists to gain a foothold elsewhere," says Kaup. "We're seeing a trend that more and more of our alumni are staying in Cincinnati, where young people are encouraged and artists have the opportunity to make a difference with their art."
AAC graduates learn networking skills for the gallery and beyond

AAC graduate and visual artist Kim Flora came from Baltimore to attend the AAC after attending many art schools across the country. She graduated with a major in painting and art history in 2004 and chose to stay as Cincinnati was a good fit for her.
"I'm definitely glad I stayed here," says Flora, who believes Cincinnati's size benefits a tight art community that is home to both new and old talent. "I am thrilled to have the opportunity to enjoy this revitalized city."
Her AAC connections led Flora to the likes of Chris Williams, who helped her get her first job with the exhibition design and installation department of the Cincinnati Art Museum.
"After starting out as a preparer, I am now in charge of the same construction and installation department that I interned for," says Flora. She supports herself with gallery and museum work and from March shows six pieces in The Return to Beauty: Asian Influences on the Contemporary Landscape in the Cincinnati Art Galleries.
Jennifer Grote is another AAC graduate who has found a niche in local galleries. Grote, who graduated in 2003, ran a corporate gallery on Pete Rose Way before switching gears to painting and curating shows. She is now a member of the AAC Alumni Association Council and strives to provide opportunities for students throughout the creative process and career search.
"The art academy has been a staple for this environment by encouraging people to seek their voice and have the courage to share it with the community," says Grote.
But galleries are hardly the only professional pillar available to Cincinnati's growing number of young visual artists.
After graduating from AAC in 1992, Ran Mullins founded Relequint, a downtown B2B digital inbound marketing agency. He later helped found the Metaphor web design studio, Cleriti and Allegori agencies, and joined larger marketing firms like Curiosity, Barefoot Proximity and Envoi Design to expand Cincinnati's digital design footprint.
"Cincinnati continues to be a great market for those involved in branding, marketing, and consumer understanding, and compared to other cities, there are many opportunities for creative career advancement," said Mullins.
Professional illustrator Jim Effler agrees that Cincinnati is a good size for young professionals looking to grow in business. "It's big enough to have job opportunities but without the headaches of bigger cities," he says.
Effler, a former teacher at AAC, Miami University, and Mount St. Joseph University, is currently creating a portrait to be hung in the renovated Music Hall, commemorating Robert Porco's 25th year as director of the Cincinnati May Festival Chorus.
Ambassador: The key to Cincinnati's creative future
As more creatives choose to stay in the know thanks to an era of change that has brought about unprecedented economic growth and a shift in cultural attitudes, many graduates are still seduced by opportunities in cities like Chicago and New York . Art Academy President John Sullivan believes this is evidence of the education students are receiving.
"We do a good job of introducing our students to the art world, especially what can be found in NYC. Some of them want to go out into the world to have a look," says Sullivan. But he admits that the wider Cincinnati art community could do a lot more to sing their own praises and retain talent. "We are not a city that values ​​the visual arts as much as other cities."
Manifest Gallery executive director Jason Franz adds that Cincinnati artists need to be better advocates for one another.
During a seminar at AAC in 1998, Franz asked the question: Why are so many students leaving Cincinnati after graduation? When one person replied that there was nothing going on in this town, Franz simply replied, "It's because people like you are leaving."
Franz believes that those who want to stay here should take root in the culture. Because of this, since its inception in 2004, the nonprofit manifesto has featured work by 2,283 artists from all 50 states and 40 different countries, as well as 184 different academic institutions across the United States.
"I wanted to take responsibility for creating the creative value the world needed, where it was needed – here," says Franz. "These results weren't just because someone stayed in Cincinnati and because conversations were with people who wanted to go. They happened because people all over the world were interested in value being valued and cared for here. "